The Packard Street Rod Association met during the NSRA Street Rod Nationals South in Knoxville, Tennessee, on Friday, May 6, 2016, at the picnic pavilion in Chilhowee Park.  Attendees included our chairman Harold Gilreath whose 1937 touring sedan is still under construction; Robert Kennard was driving his 1939 coupe after redoing his Corvette front springs this winter; and Wade Davis drove in from Chapel Hill, NC, in his 1937 convertible coupe.  Member Lynn Cawthorne from Cane Ridge, Tennessee, whose 1940 is nearing completion stopped by for a brief visit.
Dave Stanley was in the flea market selling parts left over from his 1936 120-B 4-door, which is complete except for upholstery.  Dave sent in pictures of his finished car which are now posted under members photos.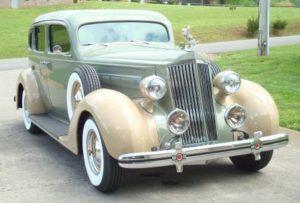 Loren Aschbrenner drove his beautiful red 1940 110 4-door sedan over from Cookeville, Tennessee.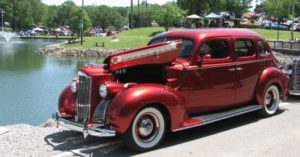 Member Daniel (Bert) Barrett, from Pigeon Forge, TN, had his 1938 Super 8, 4-door sedan in the show field with a "for sale" sign on it.  More information about Bert's car is in the Classified section.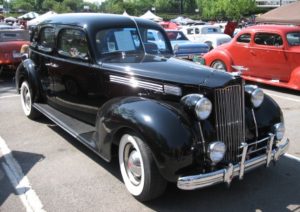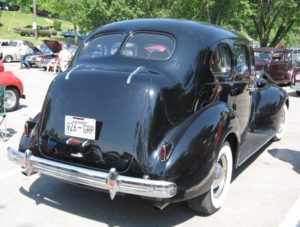 A 1940 coupe owned by Charles Smith, Jacksonville, FL. was listed at $32,500.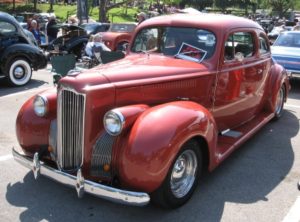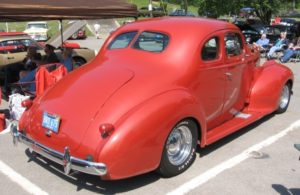 And according to the Knoxville News Sentinel one of the coolest cars on the grounds of Chilhowee Park was a 1936 black Packard touring sedan which belongs to Jim Davis from Jacksonville, Fla.  Jim found the car in Minnesota and bought it on eBay, sight unseen.  He spent about a year street rodding the car but the body, paint and interior are all original.  But it was the tommy gun and bags of cash stolen during a bank heist sitting in the front seat that stole the show.  Maybe Jim will join the PSRA.