Harold recently purchased this 1951 "200" club sedan 2-door "basket case."  This Packard is a "barn find," been sitting in storage since 1983, when it was disassembled for restoration and received an amateur paint job in an original Packard color, matador maroon.  In 1951 Packard introduced an all new body with the 300 and 400 series all being four door sedans with 127 inch wheelbase.  The Packard 200, advertised as "the greatest value car in Packard's 50 year history!"  was offered in a deluxe club sedan, club sedan, business coupe and convertible.  All Packard 200's were 2 door cars with a 122 inch wheelbase.
Harold plans to install a Fat Man front suspension, 6 cylinder Chev truck engine, automatic transmission, disc brakes, air conditioning and radio.
Harold started his new Packard street rod by removing all sheet metal from the firewall forward, front fenders and hood.  He also removed the original straight eight engine and transmission.  Harold ordered a stage 3 subframe with adjustable coilovers, sway bar and power rack and pinion steering from Fat Man Fabrication.  He is going to run the original 1951 rear end with the 5 inch bolt pattern so Fat Man included Chev truck rotors with the 5 inch bolt pattern on the front.  Harold now has the same bolt pattern front and rear.  Following pictures show the new subframe tacked in place.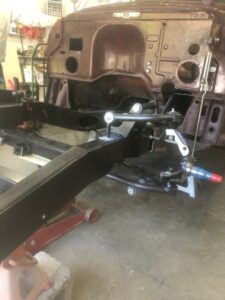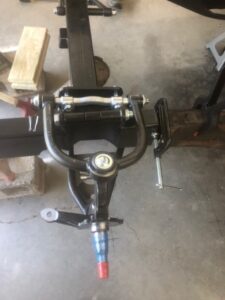 Harold bolted all sheet metal back on to make sure everything lined up before welding the subframe in place.  He then fabricated motor mounts for the Chevrolet six cylinder truck engine.  Following pictures show the Fat Man suspension with rack and pinion steering and the engine and 700 R4 transmission going in place.
Notice the dual carbs on a six cylinder and the power steering pump and air compressor.
The 700 R4 transmission sets on the original cross member, no need to modify the "X."  What's next, brakes, steering, radiator or drive shaft?  Looking forward to seeing Harold on the road again in another Packard Street Rod.