Bruce Borne, Florence, Kentucky, is building this 1940 Packard 110 convertible coupe.  Bruce hopes to have the Packard completed in time to drive it to the NSRA Nationals in Louisville, KY, in August.  Bruce restored the body to original, painted it black cherry with three coats of clear which he wet sanded flat and buffed.  The artillery wheels are American made by Wheelsmith and the 7″ Packard hub caps came from Max Merritt Auto.  Wheelsmith removed the ring on the back of the hub caps and welded on a bigger ring to fit their wheels.  Nice touch.
Bruce started with a car that was in bad shape, but he rebuilt everything with new metal.  He used a rotissary to work on the under side and rockers.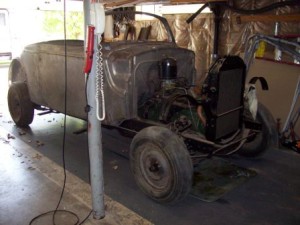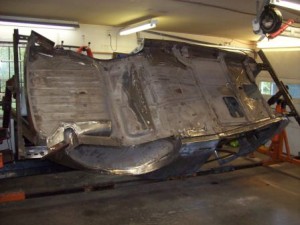 Bruce installed a Camaro sub frame which was his first sub frame installation.  He says it turned out great and fit the Packard frame really nice.  Bruce installed a 9-inch Ford rear with triangulated 4-bar suspension and coil over shocks front and rear.  The engine is a 1997 Corvette LS1 and a 700R transmission.  Bruce used a Howell EFI wiring harness which he said was "plug and play."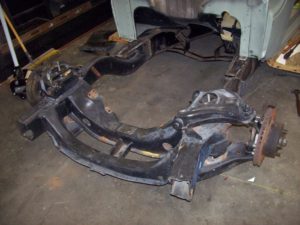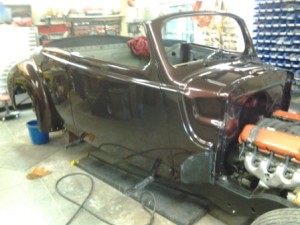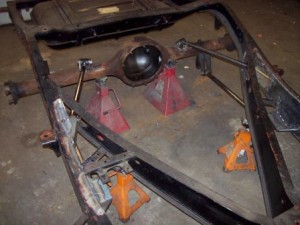 The custom interior will feature bucket seats from a Scion, done in coffee and sand colors.  Bruce said, "the front header was probably the hardest thing I had to make for the Packard due to its shape.  It had to be made to fit the car and the convertible  top and I made it from bass wood which is easy to cut and carve to shape."  Hope to see Bruce's Packard on the road to Louisville.